Point Purchasing helps companies track and control spending, increasing procurement efficiency by automating the entire buying cycle, from requisition to receipt, resulting in both cost and time savings.
News
Thomas Scientific Joins Point Purchasing Certified Supplier Program [4.Feb.20]
Point Systems is pleased to welcome Thomas Scientific as its latest member to the Point Purchasing Certified Supplier Program.
Point Purchasing Frank for Android Released [7.Sep.18]
Handheld receiving using Frank for Point Purchasing is now released for Android devices.
Reduce Costs
Centralize purchasing functions, combine orders.
Enter data only once, eliminating duplicate data entry as well as costly errors.
Negotiate better pricing as a result of reporting and B2B transactions.
Free up Purchasing Agent's time to maximize procurement process.
Integrate Now
Share data with your accounting application.
Tie into your company's user directory (LDAP, Active Directory).
Ability to integrate with chemical inventory systems.
Save Time
Monitor costs, order confirmations, and pending authorizations all online.
Screens are pre-populated with defaults to facilitate process.
Send integrated electronic orders (B2B) directly to supplier.
Receive shipments into system with just two clicks.
Handle returns efficiently.
Maintain Control
Powerful reporting capabilities.
Configurable authorization scheme with automatic routing.
Limit access to certain departments, accounts, etc. if desired.
Employ budgets and asset tagging.
Improve PO to Invoice matching.
Improve contract compliance.
What is Point Purchasing?
Point Purchasing is an web-based purchasing software system designed to simplify the process of corporate buying. It allows users throughout a computer network to place purchase requisitions. In doing so, Point Purchasing handles authorization routing, purchase agent modifications, receiving, and account coding.
Why Point Purchasing?
Without an effective procurement solution, companies are forced to rely on paper-based and error-prone purchasing system that waste time and money.
Frustration with system inefficiency reduces user and supplier engagement and lowers compliance to preferred suppliers. Uncontrolled buying hampers visibility and ability to effectively leverage spend. Crucial spend data and best practice knowledge are not widely available, preventing companies from attaining needed efficiencies.
Start Saving Today!
Achieve immediate savings and put an end to the frustrations of a paper-based system by obtaining Point Purchasing today! Find out why Point Purchasing's feature-packed software and it's low cost-of-entry make it the procurement system of choice for many companies. But don't take our word for it, ask our customers!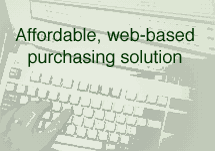 Suppliers
Increase web traffic and save costs by participating in our Certified Supplier Program.
Accounting Service Providers
Point Purchasing's Custom EZ Integrator makes integrating a breeze.
Point Purchasing integrates with the following accounting applications:
Bill.com
QuickBooks Online & Desktop Editions
NetSuite
Xero
Fortnox
Microsoft Dynamics GP
SAP
Sage PFW ERP (Platinum)
Sage MAS90 & MAS200
Sage MIP
Sage PeachTree
The Financial Edge