The following is a list of benefits offered by Point Purchasing:
INCREASED EFFICIENCY
Eliminate the headache and inefficiency of your paper based system with Point Purchasing. Reduce time to place orders and eliminate errors by using B2B (busines to business) PunchOut, integrated orders, order confirmations, and vendor bills. All authorizations are handled online and routed automatically by the system. Receive entire orders with just two mouse clicks.
COMPATIBILITY
Point Purchasing integrates with many accounting systems including SAP, Dynamics, PeachTree, Solomon, MAS 90, Quickbooks and exchanges data via REST, SOAP, XML-RPC, ODBC, Tab or Comma delimited files.
Point Purchasing can also integrate with chemical inventory systems, user directory (LDAP, Active Directory), and RMTS™ - Point Systems' Radioactive Material Tracking System.
Point Purchasing has the flexibility to reside on your organization's intranet or Point Systems can host Point Purchasing for your organization. Please see the system requirements section for more information.
FAST TURNAROUND
Requisitions are entered into the system only once by users eliminating duplicate entries of information.
Orders sent as integrated (electronic) save the agent valuable time while also ensuring order accuracy, thus reducing invoice disputes and improving invoice matching.
Utilizing Point Purchasing's flexible and powerful authorization scheme along with your company's email system, requisitions are quickly routed for approval, allowing your purchasing agent to concentrate on attaining purchasing efficiencies.
INFORMED USERS
Access to information is vital in today's marketplace. Point Purchasing provides information in the following key areas:
Users are aware of where their requisition is in the authorization process. They are able to see if a requisition is pending authorization, approved, ordered or received.
Utilizing online vendor catalogs, users are able to view the most recent pricing history for an item as well as auto populate their requisition form with items from the supplier's website.
SUPPORT
In addition to an complete online help section, we offer a comprehensive support plan consisting of a fully staffed support line as well as an online trouble ticket tracking system to accurately track your support issues.
PRICING
Point Purchasing is priced competitively for the mid-sized market, rivaling many larger scale systems in features.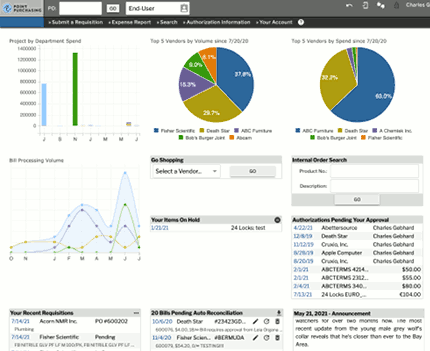 End-User
Order supplies directly from supplier's websites. Quickly obtain status of recent requisitions. [more]
Purchasing Agent
Transmit electronic orders. Monitor B2B confirmations. Combine orders. Improve contract compliance. [more]
Receiving Agent
Receive entire order with just two clicks. Handle returns efficiently. [more ]

Use mobile handheld receiving with Frank™. [more]
Administrator
Set system wide preferences, configure lists, maintain user profiles. [more]
Accounting - A/P
Integrate purchasing data. Improve invoice and PO matching. Generate powerful reports. [more]